These Companies Are Coming Together to Bolster the Community During These Unprecedented Times.

Los Angeles is a world ripe with opportunity, but the COVID-19 pandemic has launched our city into unprecedented times. Resilient as ever, Angelenos have pulled together to give back to our city, helping each other push forward through uncertainty while staying grounded. Now more than ever, philanthropy is thriving. Here are 15 Los Angeles businesses that are giving back to our community.
​​​​​​​

Let's face it—we could all use a little comfort food these days. The chefs at Secret Lasagna & Market have just the solution— a get-one-give-one campaign. By partnering with No Us Without You, Secret Lasagna & Market are pledging one full family meal donated each time someone orders from online. Their online pantry includes kitchen necessities such as eggs, lentils, and beans, as well as freshly-baked brownies, crisp green salads, and, of course, secret lasagna. is a Los Angeles-based charity dedicated to providing meals to undocumented hospitality workers.
Los Angeles-based, female-fronted beverage company Bev saw first-hand how difficult COVID-19 hit the restaurant industry. The pandemic has forced business owners to pivot from traditional plans and think on their feet to provide for the community they serve. Bev's approach? Donating 100% of proceeds earned during the dine-in service closure mandate to bolster restaurant industry workers facing hardship through the #. This initiative mimics Bev's direct-to-doorstep sales tactic, bringing the opportunity to contribute to the community straight to buyers. The company also honored their pledge to support restaurant workers by matching the first $3,000 donated to the GoFundMe by generous community members.
​​​​​​​

Founded by haircare guru Philip B., this beauty company knows that a little self-care goes a long way. In a time when putting the needs of others often came in front of your own needs, Philip B. Botanicals crafted custom hair packages for frontline workers (created in a safe and sanitized environment) to uplift the public servants who sacrificed so much during the height of the pandemic. Their high-quality, botanically-powered hair care products cater to all hair textures and types, as well as both color-treated and natural hair.
​​​​​​​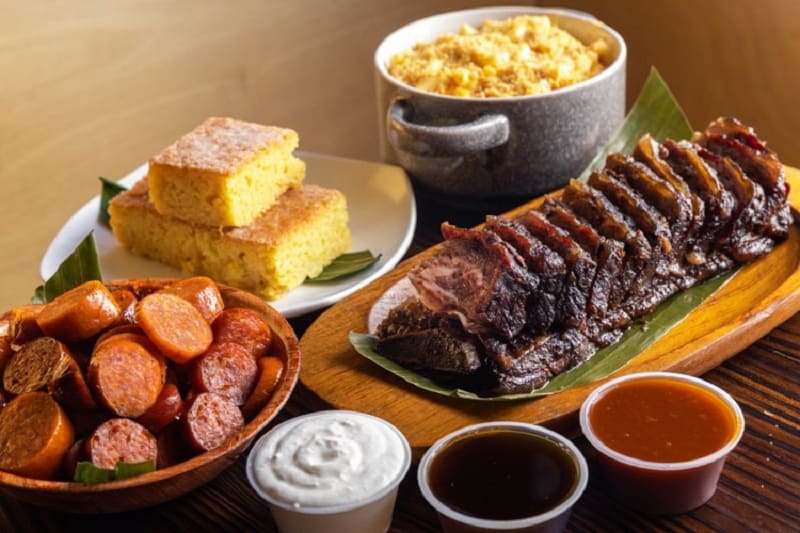 From: The Park's Finest
Nestled in Echo Park, this Filipino restaurant is doing what they do best: cooking up delicious meals for our community. Although their dining room has been closed since the pandemic's peak, The Park's Finest has spearheaded an initiative to serve frontline workers who continuously put their lives on the line in the name of protecting others. By delivering meals to hospital employees who faced the brunt of this pandemic head-on, The Park's Finest has been able to provide relief where it matters. To request a free meal, donate, or volunteer your time to their cause, fill-out their forms

Los Angeles-based sustainable clothing brand Reformation has long been known for its high-quality garments and devotion to slow fashion. By partnering with , an initiative that prioritizes local manufacturers and provides ample protective gear to businesses to support a safe return to work, Reformation has created reusable, non-medical masks available for and on their site. Masks come in one size and are designed to fit snugly. When you donate, masks are distributed to essential workers to communities in need —including ours.
As one of DTLA's go-to ramen joints, 9th Street Ramen knows how difficult this time has been for businesses and community members alike. Although it's not quite the same as dining in their neon-lit alcove eatery, getting a taste of your favorite food during hard times can be immensely soothing. 9th Street Ramen has been crafting take-home ramen kits and offering them to the public for free each afternoon between 3 PM and 5 PM while supplies last.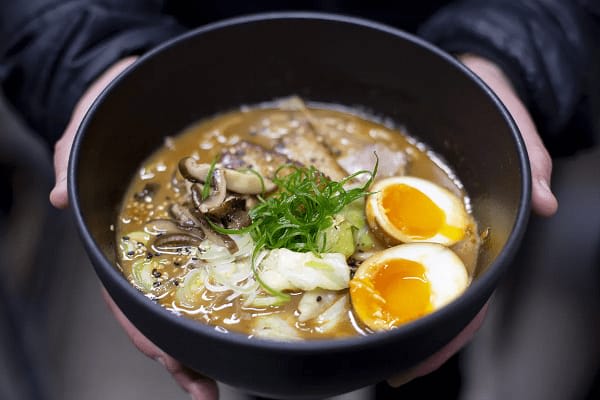 Credit: Eater
This West Hollywood bar is taking an innovative approach to catering to our community. During the height of the pandemic, Employees Only sought to serve between 5 PM and 8 PM, or while supplies lasted. As Los Angeles moves out of its Safer- At-Home orders and back toward something resembling a return to normalcy, Employees Only continues to pave the way for generous and thoughtful dining amidst a health crisis. Currently, they are operating al fresco, which allows residents to safely dine outdoors while protecting the jobs and health of food service workers. Their menu is also available to-go for pick-up or delivery so that Los Angeles residents can enjoy a hot meal without jeopardizing their health.
​​​​​​​

Los Angeles-based apparel company Sanctuary is keeping SoCal looking fresh and feeling healthy with its recent initiative to provide PPE to frontline workers nationwide. Sanctuary vowed to produce over using its stock of in-house supplies to help protect medical professionals facing difficult circumstances during the pandemic. Sanctuary has also created a fashion-forward personal mask line of Essential Lifestyle Masks for everyday use and not slated for medical use.
​​​​​​​

This West Hollywood steakhouse is making fine dining available to those being helped at the in Venice, a haven for the most vulnerable members of our community. With each takeout meal ordered, APL delivers the same meal to the St. Joseph Center to ensure that homeless men, women, and children have enough to eat while facing the additional hardships wrought by COVID-19. APL's stunning menu, which includes decadent, upscale renditions of barbecue classics like brisket and pulled pork sandwiches, has been adjusted to accommodate curbside pick-up and delivery.
​​​​​​​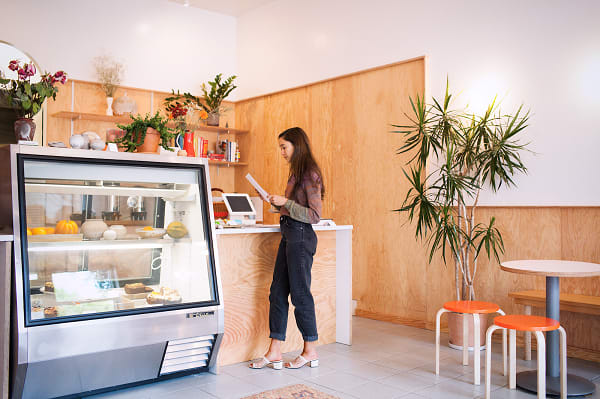 Credit: Bon Appetit
Restaurants have continuously paved the way for generosity during these tough times, which is largely because food brings people together. Those residing in food deserts, or socio-geographical areas with limited or no access to affordable, nutritious food, have been some of the hardest hit during the pandemic.
In Echo Park, Honey Hi's mission revolves around boosting personal, public, and planetary wellness by cultivating a sense of community around food crafted with locally-sourced, organic ingredients so that Angelenos can gain access to rich, hearty meals. During the pandemic, Honey Hi altered their menu to include a box of organic vegetables—every time one is ordered, 100% of the proceeds are donated to , a program dedicated to providing whole foods to food-insecure Los Angeles residents.
​​​​​​​

You know what they say—chicken soup is good for the soul. Food has a way of nourishing our bodies and minds, which is why every Monday, Heirloom LA donates entrées to mental health professionals to redistribute among clients who might need a warm, comforting meal. As well, they will large enough to feed 3 or 4 people to help reduce the strain of food insecurity in our community, and single-serving portions will be made available to hospital staff to support frontline workers. By utilizing local ingredients, Heirloom LA supports area farmers and provides customers with meals made with organic, natural ingredients.
​​​​​​​

Vegetarian restaurant Crossroads Kitchen has always carried themselves in an esteemed manner, and their intimate dining room has more of a steakhouse feel than what you might expect from a plant-based establishment. Their dedication to a plant-based lifestyle doesn't stop at their indulgent menu. Crossroads Kitchen is one of a few local establishments that have partnered with , which aims to provide area hospitals, homeless shelters, and first responders with plant-based meals. Support & Feed prioritizes marginalized groups and provides hearty, healthy meals to those in need while also supporting vegan and vegetarian restaurants in Los Angeles who prepare these nutritious meals.
​​​​​​​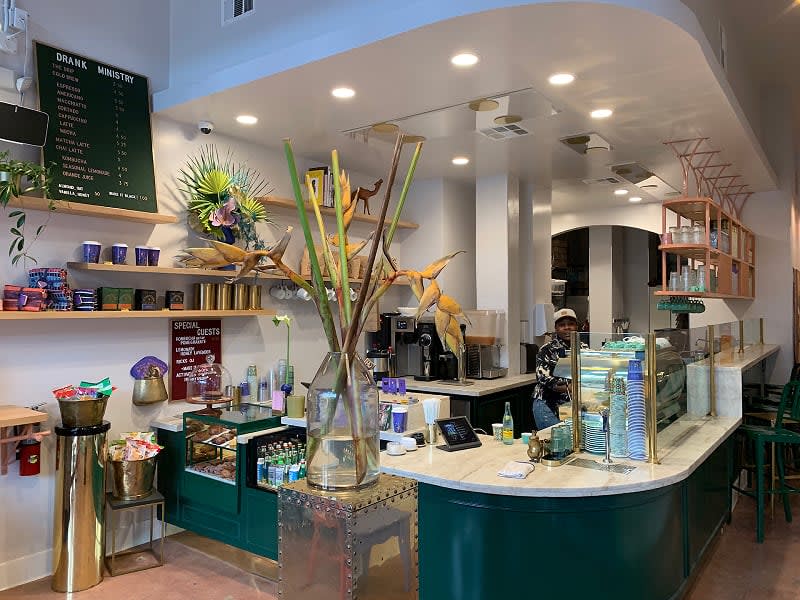 Credit: Sprudge
Coffee shops have long been a place for the community to bloom—which remains true today. Amidst 2020's chaotic sociopolitical climate, Bloom & Plume Coffee has situated itself as a cornerstone in Filipinotown for community knowledge and advocacy. By hosting an online series called "Process the Protest," Bloom & Plume raised funds for Black-owned social justice operations. They also hosted a town hall meeting online in coordination with the Los Angeles Tenants Union to provide accurate information regarding renter's rights in Los Angeles at a time when many people's homes were threatened.
​​​​​​​

This aptly-named Flower District favorite is no newcomer to charitable donations. At Poppy + Rose, Southern-style home cooking is available for Skid Row residents through generation donations of free meals from the staff. Recently, this down-to-earth restaurant took part in the Feed Your City Challenge, where they made 500 meals available for free so that vulnerable community members could leave with a full stomach and a smile.
​​​​​​​

Black lives matter, and when you order the "Black Lives Matter" bowl from Cafe Gratitude, proceeds go to the NAACP and the Equal Justice Initiative to support our community and advocate for systemic change. This vegan restaurant is constantly aiming to uplift the community with their charming nomenclature—their menu includes dishes such as the "I Am Committed" falafel burger and the "I Am Serene" gluten-free cinnamon roll.
​​​​​​​