TAKE THESE STEPS TO SAVE MONEY—AND ENERGY—WHEN HOSTING RENTERS IN LA
Full-time and vacation renters in Los Angeles are both looking for properties where they can be more eco-friendly. And while there are limited amounts of upgrades that full-time renters can contribute to a rental, LA property owners can make a wide range of eco-friendly upgrades for the sake of their wallets and the planet. Eco-upgrades make rental units more desirable and give landlords an edge in the rental market by attracting more sophisticated tenants and larger rent checks.

The Brookings Institution has ranked Los Angeles as being greener than New York, Portland, and San Francisco. If you're interested in purchasing a multifamily rental property in the Los Angeles area, the first step is to hire a local LA real estate agent with knowledge of your desired neighborhood, and experience with investment property transactions. Because Los Angeles is a sprawling metropolis with many rental properties, it's key to have a local guide who knows the city well. A seasoned pro will be able to answer any questions you may have about owning and operating an investment property.

Once you've acquired a rental unit, there are a number of eco-friendly upgrades you can complete quickly and easily. Many have to do with reducing the sky-high cost of electricity.

Go solar
One of the best ways to be eco-friendly with Los Angeles Real Estate is to harness the power of the sun. The region's outdoor lifestyle is built around fun under the sun, and rental property owners would be wise to tap into solar power. Initial installation of solar panels will be costly, but the return on investment can be significant in many ways.

The immediate returns come in the increased rent you can charge tenants who are willing to pay more to live in eco-friendly buildings. Long-term benefits for the owner include federal and state tax benefits and incentives, and the possibility of rebates from local and state governments and even utility companies. Other long-term benefits include depreciation on the value of the solar system you have installed and an increase in your property value. A good solar power system should last for at least 25 years and come with significant warranties. Solar power systems can be monitored remotely by property owners.



Install ceiling fans
An upgrade that has both an aesthetic and practical effect in Los Angeles real estate is to replace dated and inefficient overhead lighting with energy-saving lighted ceiling fans. A ceiling fan can help control the temperature in a rental unit with minimal use of the AC or heater or eliminate using them altogether. New energy-saving fans can be adjusted to circulate cooler air in the summer and warm air in the winter to help make the unit more comfortable. Plus, energy-efficient light bulbs in the fan units will last for years, reducing maintenance costs.
Commit to recycling
Many municipalities offer curbside recycling for household items such as glass and plastic containers, paper products, and cardboard. You can encourage further recycling by setting out containers where tenants can deposit their redemption-value items such as aluminum soda and beer cans, two-liter plastic soda bottles, and certain plastic juice containers.

Many tenants of Los Angeles real estate don't have the time, ability, or the inclination to take these items to commercial recyclers, but landlords can easily factor this chore into their monthly routine. Acquire easily identifiable bins for aluminum and plastic and put them in a secure location where they can't be tampered with. This is not only good for the environment but the profits from the recycled items can be invested back into the property or added to your bottom line.
Use curtains
In Los Angeles—where summers are sweltering—the curtains landlords choose to hang in their rental units can add up to a big difference. Experts suggest hanging medium-colored thermal curtains with triple-woven fabric, that can block the heat of the sun in the summer and also help insulate during the winter months. This simple upgrade can be enough to help tenants manage the temperature in their units without the use of air conditioning or heating, which adds to utility bills and ecological impact.
Use chemical-free paint
Eco-friendly upgrades for your Los Angeles real estate include the paint you choose for your walls. When landlords repaint units to prepare them for new tenants, they should consider using paint with low amounts of volatile organic compounds (VOCs). VOCs are dangerous chemicals that can emit toxic fumes for years after the paint has dried, leading to an unhealthy environment and more complicated future renovations. Tenants will appreciate knowing their rental property is free of chemicals and feel more inclined to sign a lease.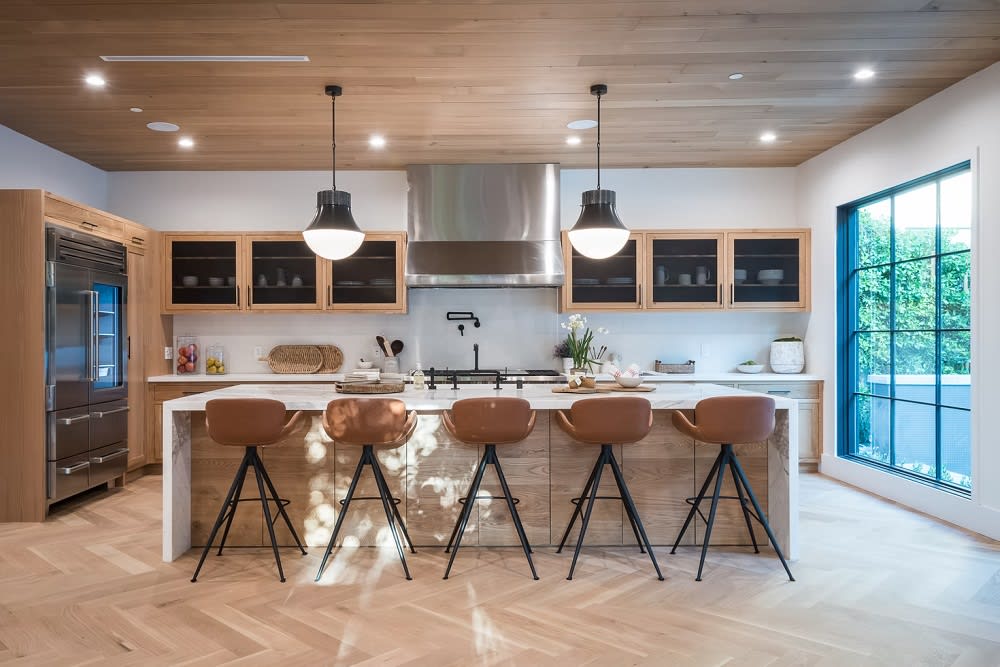 Kitchen upgrades
If your rental units don't already have a microwave oven—add them. Microwaves are an easy and affordable eco-friendly upgrade. Newer models reduce the amount of energy needed for cooking and have shorter cooking times than traditional ovens. Another smart kitchen upgrade is to replace old refrigerators with new Energy Star-certified models that will use up to 50% less energy and lead to significant power savings.

—

The tips above are simply the easiest of the many eco-friendly upgrades for your Los Angeles rental property. If you're interested in learning more—or in buying or selling a home in Los Angeles—reach out to The Passman Group for trustworthy expertise and guidance on LA's real estate market.