The Market Will Showcase Around 20 Food Vendors Selling Dumplings, Bbq, and More
From Grand Central Market and Smorgasburg LA to NoMad and Broken Spanish, Downtown Los Angeles is brimming with hip hangouts and ritzy restaurants that cater to foodies. But the San Fernando Valley (made up of 34 neighborhoods including Sherman Oaks, Woodland Hills, and Studio City) has long been overlooked, with many top chefs and food halls seemingly reluctant to venture into the valley. That all changes thanks to the arrival of the
Valley Urban Market
in Studio City.
Every Saturday morning, the parking lot of Sportsmen's Lodge (a historic hotel that once hosted the likes of Clark Gable and Katharine Hepburn) transforms into an open-air food hall. Around 20 food vendors are on hand to sell dumplings, boba, iced tea, BBQ, and more. Locals and tourists alike mingle at the food-focused event, listening to DJs play music and trying new takes on classic cuisine. And since so many families call the valley home, there's also plenty of family-friendly events like balloon art, face painting, and photo booths.
To kick off the festivities, musician Dave Grohl (husband of Jordyn Grohl, who founded the fair with Valley locals Megan Gefsky and Deborah Saly) served barbecue alongside pitmaster pro Billy Terell of the Southern-style barbecue food truck Beached Pig. On September 22 and 29, Terrell brought his finger-lickin' good Tennessee barbecue to the Golden State, where he and Grohl passed out pulled pork sandwiches, brisket tacos, and sides to Angelenos.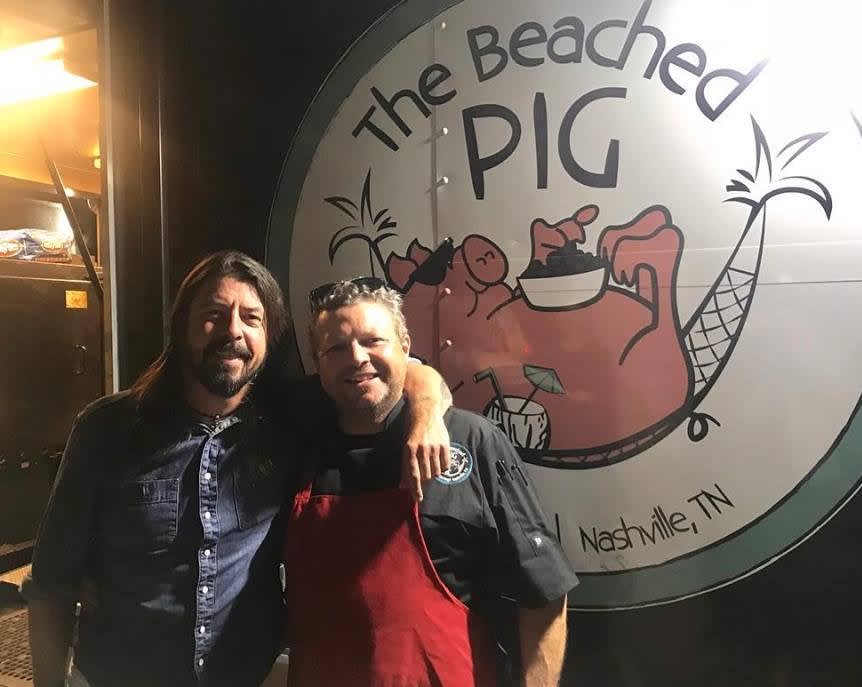 The barbecue sensation is by joined by Dina's Dumplings (which serves up handmade pork and cabbage, vegan, and beet dumplings), Buttery Popcorn Co. (which offers sweet-and-savory popcorn goodness), Lobsterdamus (which sells flayed-and-grilled lobsters and lobster noodles), Sticky Rice (which makes Thai food), Wa-ii Kamikaze (which hands out boba and burgers), and several other food truck favorites.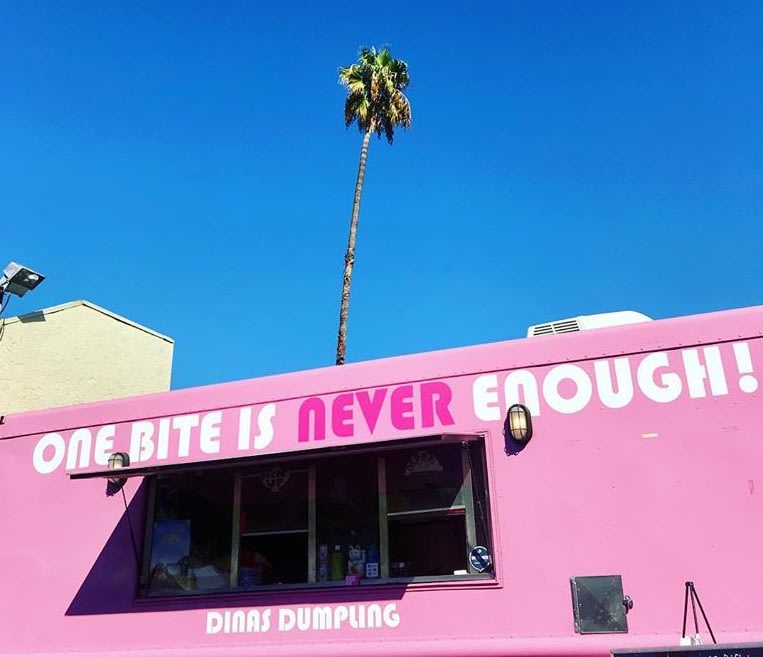 There's a $5 entry fee per person, and a portion of the proceeds will benefit Valley Food Bank. Children under 5 will be admitted for free.